Last Updated – 6 months ago
This is a step-by-step guide to transfer points from American Express (Amex) Credit Card to Club Vistara (CV) Points.
Why do you transfer points?
Before we jump into know how's, let us understand why do you transfer points. There are multiple options to redeem your credit card reward points, one of that is to transfer points to partner airlines for their frequent flyer program or hotel group likes Marriot, Hilton.
Typical reward rate of amex is 1 Rupee for every 4 MR points, with point transfer you can churn a little more than this at times, here is one such opportunity.
What are the prerequisites?
All you need are two things,
American Express Credit Card Online Account Access
Club Vistara Membership ID
If you have the Amex Credit card, first thing is already sorted. For Club Vistara, sign up on their website by giving basic details, You will receive a CV Membership ID on your email, same can be found on your Club Vistara dashboard as well.
Steps to Transfer Points
Transferring points from Amex to Club Vistara is divided into two parts, Registration & Transfer Points.
Registration
If you are transferring points to Club Vistara for the first time with your amex account, you need to first register your CV ID in Amex account.
Login to your Amex account
Head over to Rewards & Benefits Section
Select Transfer Points
Select Club Vistara from the airline partner list.
Enter CV ID & complete the process.
This is a one time mandatory activity for point transfer.
Point Transfer
Some points to remember before you begin this process,
Minimum MR Points – 900
Transfer is allowed in multiples of 900 MR
Max MR Points – 9L
Cross check above criteria before you start the process, since it may change from time to time.
Follow step 1 to 4 from the registration section.
Enter number of MR points you wish to transfer
Review & Complete the process by authenticating with your card CVV.
Sit back & relax while Amex does their job.
How much time does it take for transfer?
Registration as well as Point transfer is not immediate process. I wish it was immediate in this digital era. I believe that there must be a manual validation by their operations team for this entire process and hence Amex claims that it may take upto 7 days to complete the registration & point transfer process. In reality it may happen before that.
I recently transferred points to club vistara to benefit from the ongoing offer, read more about it. For me, it took just 1 day to finish the entire process. I placed the request post mid night and I received confirmation email from Amex on the same day by 11pm. I would suggest to keep healthy buffer if you are transferring the point for redeeming award flight in short notice.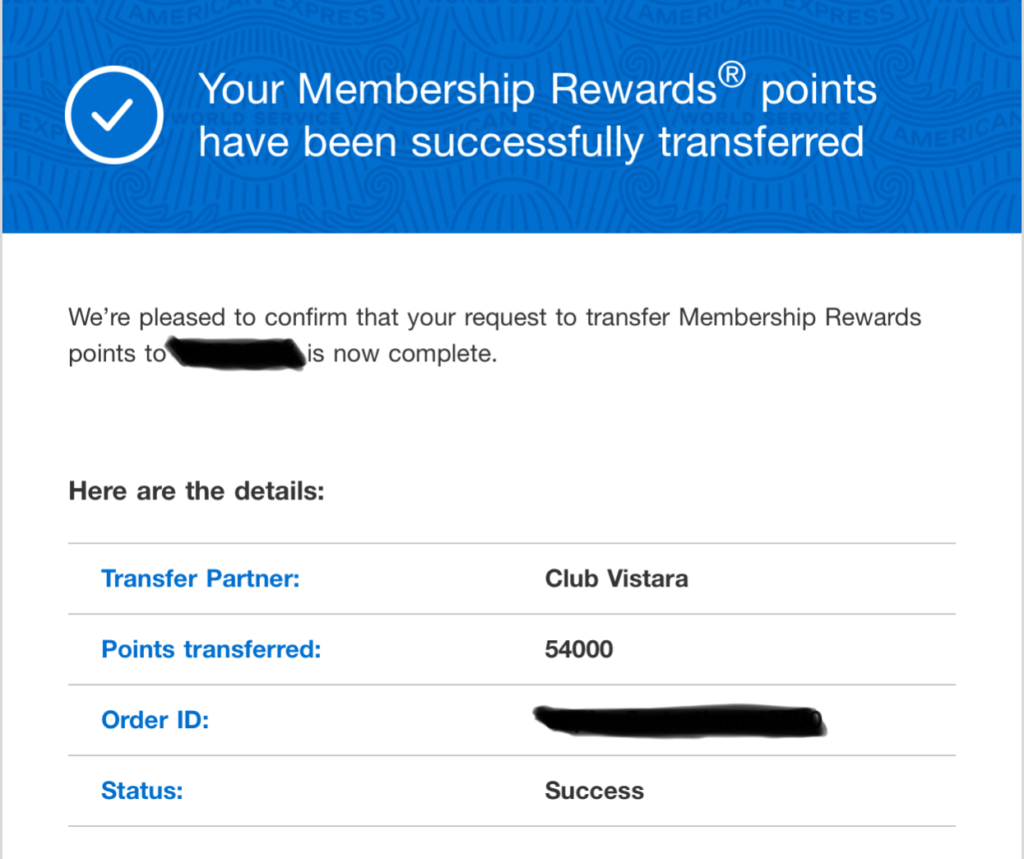 Points started reflecting on Vistara transaction history instantly after the email received by Amex enabling me to book my reward flights.
Final Thoughts
Its a very simple process to transfer the points. Whether to make the transfer completely depends on your needs & I have tried to capture some events to consider for transferring points in this article.
Let me know your thoughts about this.