A gift voucher, as the name suggests is typically used as a gift instead of handing over cash. Can you imagine that being your primary mode of payment? The introduction of a simple "Buy for Self" button should give you an idea. Let's dig into it.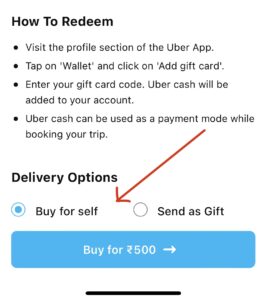 What is Gift Voucher
It's a currency. Period. A currency that is accepted in a specific brand outlet, or website. It can be bought, sold, or transferred.
Is Gift Voucher a discount coupon?
No. This is where a lot of people get confused & give up. Discount coupons are specific to a person or a product, whereas gift vouchers are a currency. It's a mode of payment and can be used over and above discount coupons. Here is an eg of the Myntra website. If you notice the right bottom of the screen there are two different sections, one for discount coupons & other for myntra credits. So this product has a discount voucher of 250 which got applied to the cart & since I have gift vouchers added in myntra credits, that amount is automatically debited.
As I mentioned, this is your currency, gift voucher (I have added vouchers in Myntra credits) its over and above all the discounts you get after bargaining 🙂
So the total payable for the above cart is INR 2738, can I pay that as well using a gift voucher? Why not?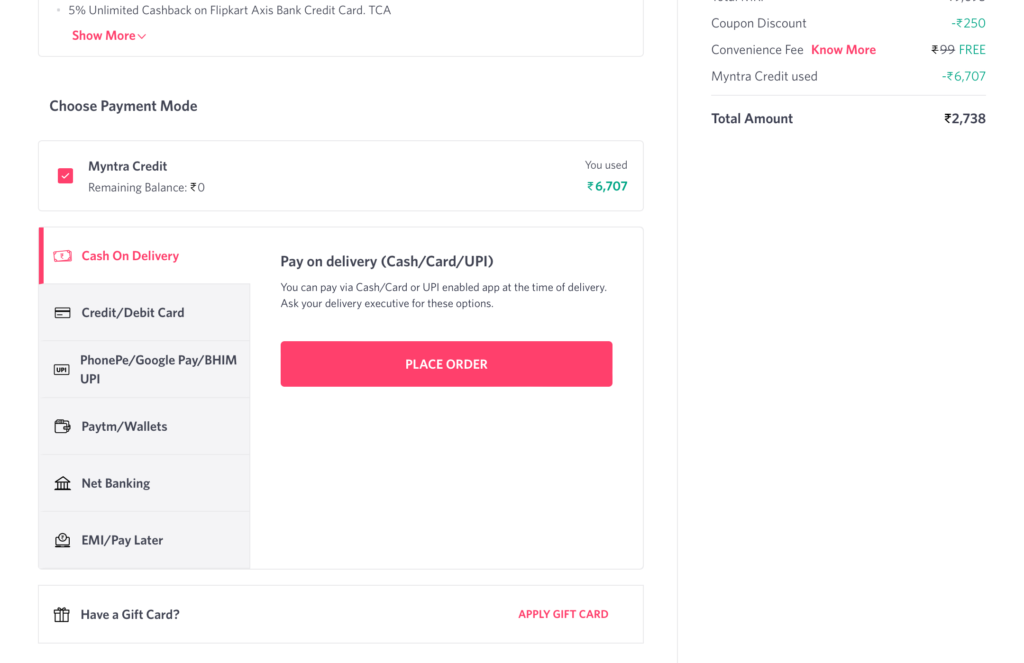 Notice the `Have a Gift Card` at the bottom of the page. Again, it's a currency, so it's showing on the payment page.
What is Gift Card Wallet?
Imagine, you making a payment in Starbucks, and the poor guy at the counter is entering those 15-16 random numbers on the payment page on his desktop, and 5 thirsty people waiting in the queue behind you. What if this doesn't work, if they have some software problem, and so on making you feel anxious? To make you comfortable, these outlets created a wallet for you to load these vouchers even before you visit them. Swiggy, Uber, Amazon, Flipkart, Myntra (Credits in the above screenshot), everyone has this facility with different names like money, credits, wallet, etc.
Important Note – Once you add these vouchers to your wallet, you can't give them to someone else. They will be tagged to your account only.
Where to buy Gift Voucher?
There are two ways to buy gift vouchers, one from the brand itself and the other from third-party websites. If you buy them from the brand itself, they are unlikely to give you a discount, try your luck, however, if you buy them from third-party websites, you will save a lot of money. Believe me, at times it's more than what you can earn through a fixed deposit in a year. Here are some third-party websites. Flipkart, Amazon, Gyftr, Woohoo, Paytm, and the list will go on.
On almost all the websites, you can use your credit card to buy these vouchers, so you are not losing on your rewards.
My personal favorite is Paytm since,
Easy interface
App is already installed for many of us already
I noticed they give good discount than others.
Every voucher is instantly generated and shown on screen once payment is complete.
How do I use it?
Brands I usually use like Swiggy, Uber, Flipkart, Myntra, Amazon, etc, I stock up the vouchers whenever I get them at a good discount through one of the above third-party websites. Follow us on Twitter, Facebook & Instagram, I will make sure you are notified of such offers from time to time.
For other brands, just before going on the (physical) counter or payment page, I open the Paytm app, search brand name & buy the voucher if it makes sense. You name the brands, Bata, Pantaloons, Westside, TataCliq, and thousands more. Next time give it a try.
One real-time eg,
Last week we went to Pantaloons & the she did lot of shopping. Shhh, don't tell her I mentioned 🙂
Every product had some 20-30% discount which was applied automatically.
She had a Pantaloon membership, so that made it 10% lesser.
Finally when the payable amount came, we went straight to our currency 🙂
Bought the voucher at flat 10% off and boom.
Important points to note before you buy Gift Vouchers
Every gift voucher has an expiry, typically 1 year.
Most of the brands allow you to combine multiple vouchers in one cart. Check the number.
Most of them can be used multiple times until the balance & expiry is valid.
You can combine voucher & other payment modes.
Almost all the vouchers are instantly generated unless explicitly mentioned.
At times, person at the counter may not know about these, so make sure you nudge him or the store manager.
Some brands like MakeMytrip, Kalyan Jwellers have category based vouchers as well.
Why the hassle?
I know at times this can be a hassle, but once you understand and try it out, it's piece of cake. After all,
Every penny saved is a penny earned
Geek only section
Qwiksilver is one of the largest gift card providers in India. They maintain, distribute, and sell (through woohoo.in) gift vouchers for a majority of the brands. For eg, Taj, Myntra, Flipkart, and Tata Cliq vouchers that you may buy on Paytm are all sourced through Qwiksilver, making Paytm a re-seller. Create your account on woohoo and add gift vouchers you purchased & track it. It helps big time since you don't have to maintain or remember on your own. You can track those even when you add them to your brand wallet.
So will you try it next time you visit any mall? Let me know your experience.