Here is a step by step guide to redeem your Vistara Complimentary Flight ticket.
How do you get Vistara Complimentary Flight Ticket?
Vistara has cobranded cards with three Indian banks SBI, Axis & IndusInd. Vistara runs their fleet with three coach arrangement that is Economy, Premium Economy and Business Class. Each of their cobranded card has spend based milestones and at each milestones you get a complimentary flight ticket. Ticket depends on the type of card you hold. For eg, if you hold Axis Vistara Infinite Card, you will get a business class ticket, if you hold SBI Vistara Prime, you get Premium Economy ticket. I will soon post detailed review for some of these cards.
Here is a quick matrix to give you an idea with each bank's offering with Vistara.
| | IndusInd Bank | State Bank of India | Axis Bank |
| --- | --- | --- | --- |
| Economy Variant | | Yes | Yes |
| Premium Economy Variant | | Yes | Yes |
| Business Variant | Yes | | Yes |
Mode of Redemption
There are primarily two modes of redemption for these vouchers.
Phone
Website
Vistara has a mobile app as well, however you can't redeem the flight ticket through that. In this article, I will stick to Website redemption process.
Website Redemption Process of Complimentary Flight Ticket
When I started the process of redeeming the flight ticket, I was confused & I searched for videos or articles around this. At one point, I thought of giving up and straight away call the Vistara helpline but then I didn't want to wait on long queue.
Its not a great UI/UX to redeem the Vistara complimentary flight ticket, so bare with me.
Head to 'My Account' section of your Vistara account. Click on My Vouchers section.
You will see three tabs,

My Voucher
On-demand Voucher Generation
Redeem complimentary Voucher

First you need to head to On-demand Voucher Generation.

Co-branded vouchers have a validity of 3 months unless specified otherwise, however they have extended this by adding an issuance feature.
Once the milestone is achieved, Vistara will credit the voucher in your account however they will not issue it.
You can issue the voucher within 6 months from the date of posting it into your account.
Overall you get 9 months to redeem the voucher from the day it is posted to your account.
If you don't issue it within 6 months, system will automatically issue it.
Once you issue the voucher, it will start reflecting in 'My Voucher' section with Active Status.
Go to Redeem complimentary Voucher section.

You will see all your active vouchers in this section allowing to you book your complimentary flight ticket.
Now you need to enter your itinerary and search for your flight
Choose your flight with available award ticket

Your complimentary flight ticket covers the fare of your ticket, however it doesn't cover taxes.
Typically taxes are in the range of INR 500 – INR 1100. These are mainly airport taxes.
Enter Passenger details.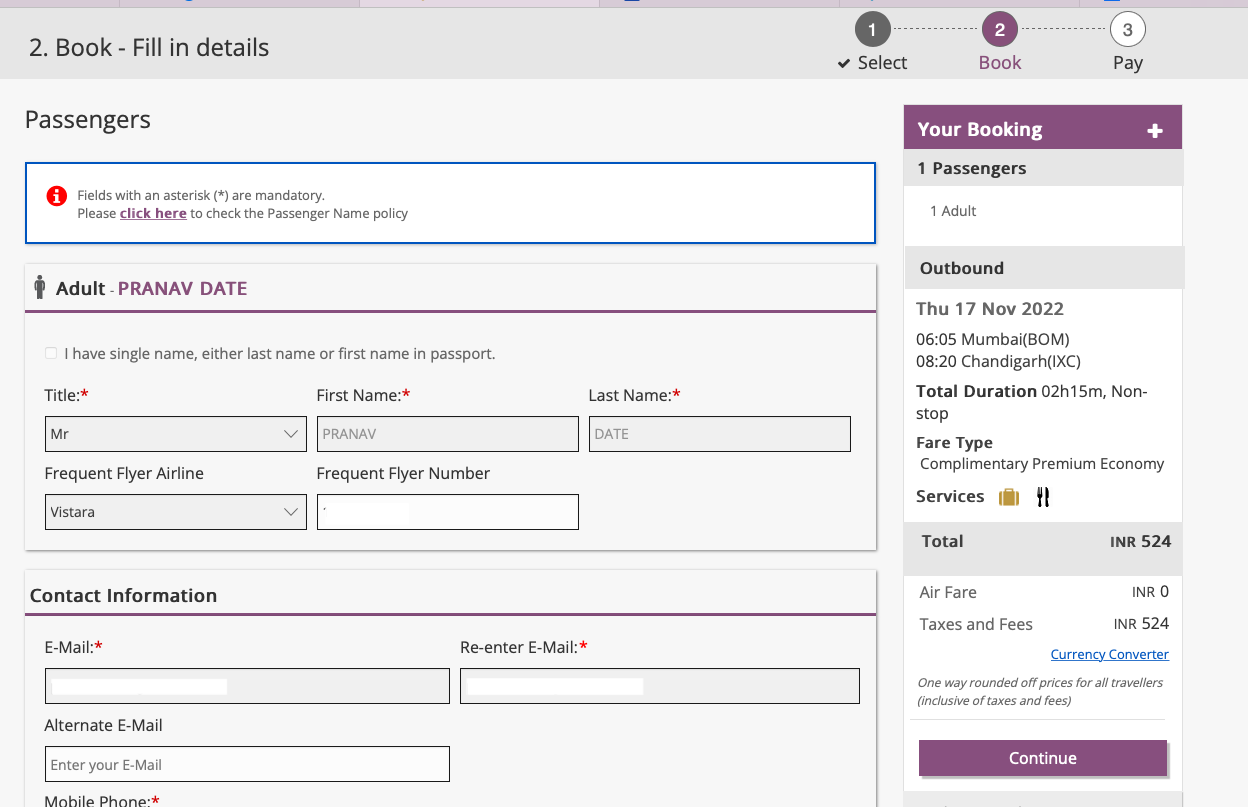 Select your seat and pay the taxes.
Geek Only Section
You can add 6 nominees to your account and nominees can be edited only post one year, so choose your nominees wisely.
If you are flying economy, choose your meal options before the flight, you will be the first one to get your meal 🙂
Not all the seats on a flight are available for complimentary flight ticket (award ticket). Make sure you check for availability with call centre before issuing your voucher.
Let me know your experiences while booking your complimentary flight ticket.